1 PETER 1:3
According to his great mercy, he has caused us to be born again to a living hope through the resurrection of Jesus Christ from the dead.
The Christian life is anchored in the fact that Jesus Christ didn't stay dead, the tomb didn't have the last word. But, rather, what happened in that tomb two thousand years ago is the one event in human history upon which eternity hinges for everyone.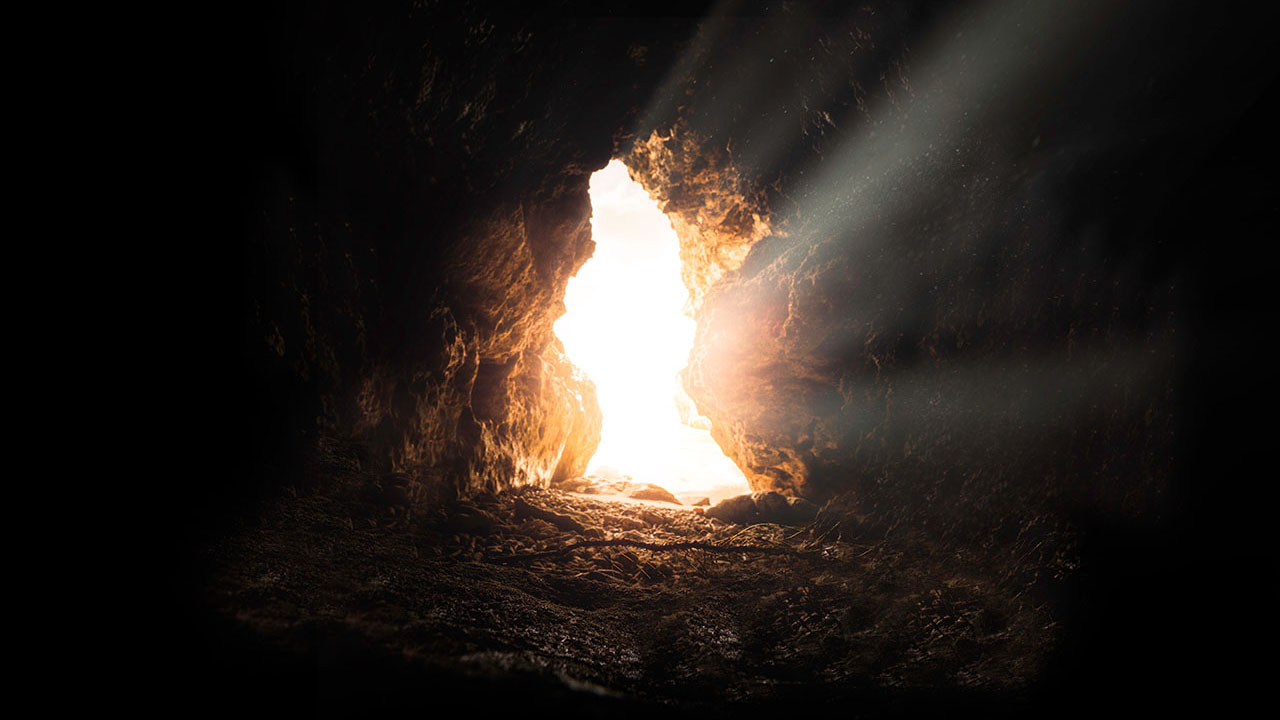 FATHER, GLORIFY YOUR NAME
Two thousand years ago a man died just outside Jerusalem, brutally pinned to a Roman cross until, out of extreme exhaustion, he could no longer support his weight and suffocated like hundreds of others before him. Those closest to him pried his body down, wrapped him in burial cloths, and placed him in a tomb where they believed he would remain till the end of human history. Except, he didn't. On the third day he stopped being dead. And everything changed after that.

This man was Jesus of Nazareth, and he had for three years claimed to be the Christ—the long-awaited Messiah of the people of Israel. He foretold his death, and he foretold his resurrection. This was how it had to be; this was the reason he had come: "Now is my soul troubled," he said, looking toward the humiliating torture and execution that lay before him. "And what shall I say? 'Father, save me from this hour'? But for this purpose I have come to this hour. Father, glorify your name" (John 12:27-28). And his Father did glorify his name.

In a world filled with unrighteous sinners who have dishonored God by valuing and exalting other things above him, God looked upon humanity and glorified his name. Rather than seeking the glory of his justice, by casting out forever all who refused to acknowledge him, he put forward his perfect, sinless Son—the radiance of his glory personified and clothed in human flesh—who would embrace his people's sins and pay for them by dying on a cross and enduring the holy wrath of God's judgment. He would receive the complete punishment for their sin.
VINDICATION
This is how the Father glorified his name, by vindicating his holiness in punishing sin, yet securing everlasting freedom for his people. Romans 3:23-25 says that "all have sinned and fall short of the glory of God, and are justified by his grace as a gift, through the redemption that is in Christ Jesus, whom God put forward as a propitiation by his blood, to be received by faith."And this was done to glorify God, as it would show God's absolute righteousness to the world "because in his divine forbearance he had passed over former sins. It was to show his righteousness at the present time, so that he might be just and the justifier of the one who has faith in Jesus" (Romans 3:25-26). God's purpose in Christ Jesus was to uphold his righteousness by both being just (punishing all evil in the world) and by being the justifier (providing grace to those who call on him). For this reason, the cross was the apex of God's glory—the point at which the glory of his grace to pardon guilty sinners shined the brightest.

Yet if Jesus remained in the grave, none of that would matter: "if Christ has not been raised, your faith is futile and you are still in your sins" (1 Corinthians 15:17). So at the heart of the forgiveness of sins and the promise of salvation is the resurrection of Jesus Christ. Without Christ rising from the dead, there is no hope of forgiveness—humanity would forever remain guilty of their sins and in need of justice. But, thanks be to God, Christ didn't stay dead, and in rising he decisively shattered the grip of death on his people (Hebrews 2:14).
RECONCILIATION
And with his resurrection comes the greatest hope of not only human history, but of all material reality. Those who trust in Christ and his work on the cross have been completely reconciled to God and adopted into his family. Since the entrance of sin into the world, which brought with it pain, ruin, and calamity, all of creation has waited for this moment of reconciliation. "For the creation was subjected to futility, not willingly, but because of him who subjected it, in hope that the creation itself will be set free from its bondage to corruption and obtain the freedom of the glory of the children of God" (Romans 8:20-21).

All that has happened since the beginning of history has happened in hope. God has ever been guiding his plan of redemption through the running centuries, though they were filled with violence and shame, and it all points to this one event: the revealing of the children of God. If your faith is in him, "when Christ who is your life appears, then you also will appear with him in glory" (Colossians 3:4). This is our Risen Hope—the Savior who redeemed us and the glory he brings for those who belong to God, those forgiven of their sins by trusting in God's grace rather than their own righteousness.
LIVING HOPE
Those who belong to God possess a "living hope through the resurrection of Jesus Christ from the dead, to an inheritance that is imperishable, undefiled, and unfading" (1 Peter 1:3-4). What does this inheritance entail? It begins with receiving an imperishable body that will never suffer or die (1 Corinthians 15:42), a sinless heart that is fully conformed into the image of Christ (1 John 3:2) and the right to reign in the new heaven and the new earth (Revelation 21:1; 2 Timothy 2:12). But at its heart is the promise of fullness of joy and pleasures forevermore (Psalm 16:11), as those who belong to God explore for all eternity the immeasurable riches of grace in kindness to us in Christ Jesus (Ephesians 2:7). And all of this is found in the presence of the living God, the final resting place for those who trust in Christ and his work, as 1 Peter 3:18 says: "For Christ also suffered once for sins, the righteous for the unrighteous, that he might bring us to God."